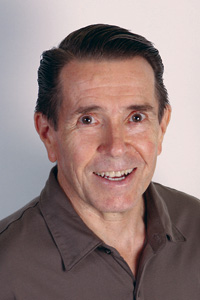 LEON STANSFIELD
Born at Grants Pass, Oregon, he spent most of his early life there on a small farm and attended Jerome Prairie School. He was a member of Cub Scouts, Boy Scouts, and Explorer Scouts during those years, in addition several years as a member of a 4H dairy club. He also spent several years studying piano. He attended Grants Pass High School, Eugene High School, and Medford Senior High School, where he graduated. He attended Bethany Bible College, Scotts Valley, California, for a year. He served three years in the U.S. Army as a draftsman and illustrator, which included an 18 month assignment at the 8 U.S. Army HQ/United Nations th Command, Seoul, Korea, and 10 months at the U.S. Army Management School, Fort Belvoir, VA. He graduated from Southern Oregon University with a major in Elementary Education. He married Elizabeth Ann Goodson, an elementary school teacher. They both taught public elementary school for Eagle Point Oregon, Frederick County, Maryland; Reedsport, Oregon, and Winston-Dillard, Oregon. Their daughter was born just prior to moving from the Winston-Dillard positions. They both completed the M.Ed. degree (and he the Oregon Principal's Certificate) at the University of Oregon. He was a public school principal at Brookings, OR, Central Point, OR, and Rocky Boy Indian Reservation, MT. Their son was born shortly after leaving the Central Point position. Leon was converted to the philosophy of Christian education while in Montana through the writings of Dr. Paul Kienel, leading to positions of principal at Life Christian School, Tacoma, WA, and Sunrise/Foothill Christian Schools, Roseville, CA. In 1982 he and his wife founded Douglas County Christian Schools, Inc., at Roseburg, OR, where they served as principal and teacher, and where their two children completed high school. In 1998, after serving at DCCS for sixteen years, they took positions as founding administrator and teacher at Resurrection Christian School, Loveland, CO. In 2000 they moved to Stockton, CA, at which time he began to develop the Read Thru The Word Bible Curriculum, while working at Home Depot. In 2001 they took Leon's aging parents into their home and cared for them until their deaths in 2007 and 2008, at ages 95 and 92. Leon completed his M.Div. degree from Christian Life School of Theology, Columbus, GA, in 2006. In August of 2010 he accepted a position as adjunct professor at EPIC Bible College, Sacramento, CA, where he served for one school year. His wife taught elementary students at Stockton Unified School District for eleven years prior to her retirement. In June of 2013 they moved to Grants Pass, Oregon, Leon's home town which is near Glendale, Oregon, where Elizabeth grew up.
Publications which Leon and his wife have produced include:
PHONIC LINKS
An individualized testing and teaching tool of 270 pages, 1974
SYLLABLE LINKS
An individualized testing and teaching tool of 47 pages, 1978
EIGHT CHALLENGES FOR CHRISTIAN PARENTS
40 pages, 1986 & 2009
MATH LAB
A system of 67 "stepped tests" for student mastery of the basic number facts, 2003
CHRISTIAN SCHOOL ENTRANCE TESTING SYSTEM
Part 1 (PK-6), and Part 2 (7-12), 2009
READ THRU THE WORD BIBLE CURRICULUM
3 editions, 2009-11
KJV GLOSSARY & BIBLE DICTIONARY
Over 1,100 words and phrases defined, 170 pages, 2009
KING OF THE GRIZZLIES
(a child's book, republished from public domain after 70 years), 2011

THE BONDAGE OF THE WILL
Martin Luther, 1823 Cole translation from the Latin, fully edited, footnoted, and reformatted, 2012

LUTHER ON HUMAN WILL
A careful and concise abridgement of the above book, with a number of enhancements, 2012.